Toscana e Gusto, a Cooking School Born out of Friendship
Everything started for fun from our friendship and shared passion for cooking.
For fun and to share our passion we developed a small food-related blog, hen cooking gradually became our prevailing interest, together with the desire to interact directly with people. From these beginnings five years ago, the cooking school, the hikes with catered picnic and our tours got started.
Our Philosophy…
We believe good food does not need to be complicated. In fact, the best food is often the simplest. Our recipes and our cooking style reflect this fact. Fresh ingredients, treated simply and with respect, are the foundation of memorable meals. We do not complicate simple recipes just so that our class participants can walk away with a sense of accomplishment. Rather, we emphasize cooking techniques that most effectively draw out flavor from each ingredient in a dish. And we make cooking fun, so that people are actually motivated to do it on a regular basis, sharing the pleasure of cooking with others instead of being intimidated by lengthy processes and hard-to-find ingredients.
This also means that we do not use any processed ingredients or pre-packaged food in our cooking. All our stocks, broths, and sauces are homemade. Nothing goes to waste, and everything we incorporate in our cooking is natural, seasonal and mostly locally produced. After enjoying a meal cooked in our kitchen, you will feel satiated, never heavy.
We chop, prep, and measure all necessary ingredients together mincing onions, washing potatoes, measuring flour and sugar.
One last thing: we believe food should be delicious, and every meal should be a celebration. So when you come to our kitchen, you will not only learn how to plan a menu, execute a recipe: you will also learn how it should taste, because the food we share in good company is always flavorful and satisfying, so we never rush the pleasant moments around the table, and enjoy our work together.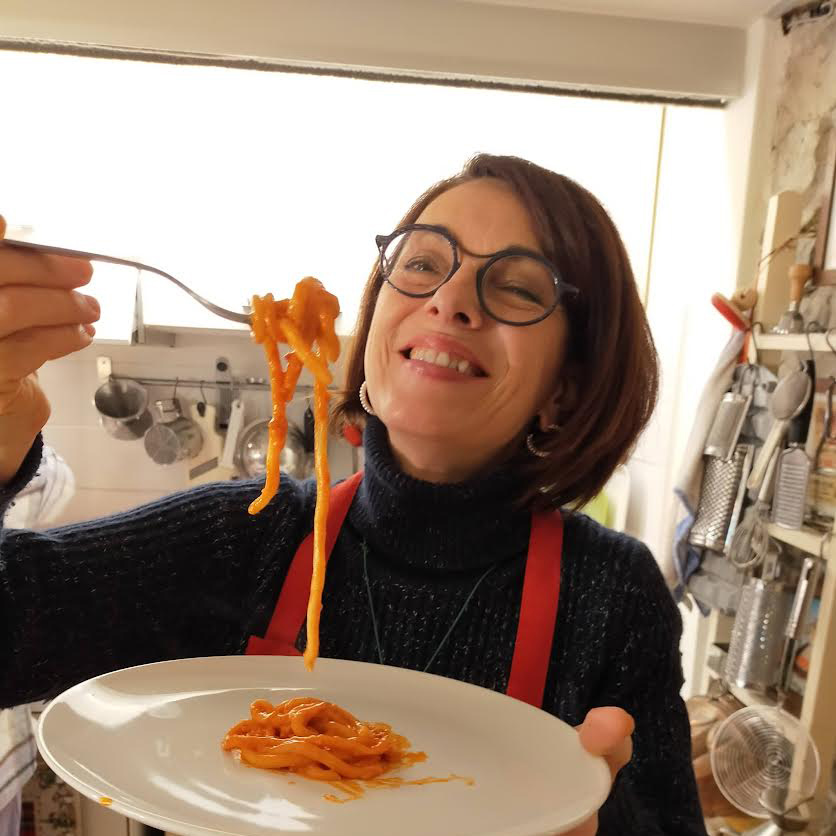 Stefania
Stefania was born in Cortona, but grew up in a magnificent island off the Tyrrenic coast, Isola d'Elba, where the unspoilt nature, rich with the remnants of ancient populations, transmitted a passion for learning the traditions to her.
After studying humanities and foreign languages, she worked for ten years in guest relations and marketing for Relais & Chateaux Il Falconiere in the Cortona area, organizing events, tours and cooking weeks.
Passionate about culinary traditions, enthusiastic about new and enriching experiences, she has designed a web site to share traditional Italian and Tuscan recipes, blog.giallozafferano and currently collaborates regularly as professional tour leader with international Tour Operators.
Her passion for cooking and sharing, with anyone who is eager to roll up their sleeves, is matched perfectly with the enthusiasm of her friend Anna. And so, in-between one chat and another, their dreams and passions came together as a natural evolution in the cooking school and the Tours of Toscana e Gusto.
Reviews