In House Chef
We offer a personalized service for the preparation of mouth-watering meals at the apartment or villa where you are staying. Ideal for those who wish to be pampered after long days out touring the beauty of the area, for a special event or just to enjoy the pleasure of a Tuscan home meal, perfectly relaxed in the comfort of your holiday home.
A sunny cuisine coupled with great wines ensures a total immersion of the five senses in the comfort of your villa.
Some of our mouth-watering menu items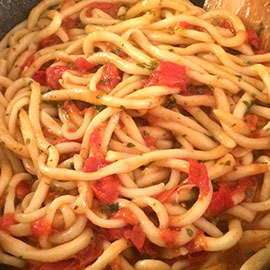 Tuscan Recipes
Chicken liver pate, Traditional Pici pasta with cherry tomatoes and pecorino chips, traditional tagliata beef-steak with rosemary and green pepper, Peposo (Slow-cooked Peppery beef Stew), zuppa inglese.
From € 25 per person (minimum 4 people)
Sunny Cuisine
Farro salad with seasonal vegetables, gnocchi with Tuscan sauce or tagliatelle with ragù, porchetta, cantucci with vinsanto, egg flip.
From € 25 per person (minimum 4 people)
Pizza & Co.
Schiacciata with sage and rosemary, home made Tuscan bread, pizza with different toppings, tiramisù or almonds and chocolate cake.
From € 25 per person (minimum 4 people)
Vegetarian Tuscan Cuisine
Little endive and pecorino cheese pies, pinzimonio with honey and bread sauce, panzanella (bread salad), or pappa al pomodoro vegetable country tart with pecorino cheese, fresh fruit crostata.
From € 25 per person (minimum 4 people)
The Shepherd Menù
Stuffed zucchini flowers with ricotta and pecorino cheese, High-summer risotto or tagliatelle with fake sugo (Meatless ragù), Baked lamb in crust of Tuscan bread, dark chocolate and ricotta lattice tart.
From € 25 per person (minimum 4 people)
Good to know informations
The in house chef is available either for lunch or dinner, matched with exquisite wines. Menus are based on traditional recipes and selected fresh, seasonal ingredients, locally produced
There is a minimum of 2 people up to maximum 25 people.
The extra service of a waiter assistant is available on request for groups.
In case of allergies or food restrictions, we can suggest alternative menus, while still sticking to our philosophy of local traditions, fresh and seasonal ingredients.
We will provide a menù selection for you to choose the one that better fits your needs, and with the number of dishes you prefer.
Together we will determine the menu that best suits the occasion, starting from a 2 course for a simple light meal, up to a full meal, like the Italian Sunday family lunch.
All ingredients, paired beverages and cleaning after will be included.
We will be at the table, taking care to describe served dishes, ingredients and a little history and culture of the territory.
Service of an assistant/waiter is also available on request for groups.
Live music or falconry exhibitions available on request.